Windows and Doors
If you're thinking about replacement windows or patio doors, there's no reason to wait. The benefits start immediately. From enhancing your home's interior to adding to its curb appeal, new windows and doors transform a home from ordinary to outstanding. What's more, they provide one of the best returns on investment of any home improvement project.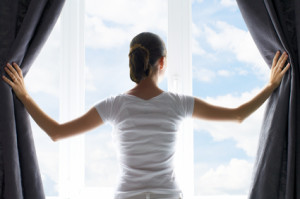 Dual-Pane Vinyl Windows offer many benefits.  They're more energy efficient than single-pane or aluminum windows, keeping more of the heat in when you want it and the heat out when you don't. Vinyl Windows are virtually maintenance free, as they don't crack, peel, corrode, or rot like other materials.
Replacement Windows, also known as Retrofit, eliminate the need to cut back the siding. With this process, the old glass is removed, leaving just the original frame intact. The new Retrofit window is designed to fit inside the existing frame, with a wide exterior trim. Then it is sealed and caulked with a high quality caulking material. This produces a nice clean look when properly installed. This process is good for all types of homes, especially Stucco, as it leaves no Stucco damage.
Nail-On Windows can be used for new construction or to replace old windows. This process involves cutting back the siding around the existing frame, installing the new window, trimming with wood, then sealing and caulking with high quality caulking material. This is another good option, but it is more labor intensive, which is important to consider in the budget of your project.
Low-E Coating is a heat reflective metallic coating, which offers additional benefits. It retains more heat in winter and helps keep the sun's heat out in summer, reducing energy bills. A Low-E coating allows the natural light to enter the room while it blocks infrared rays and reduces harmful UV rays from entering the home and fading your carpet and furniture.
To properly maintain the seal of your windows, always clean with a Ammonia Free cleanser. Over time, Ammonia can break down the seal of the highest quality windows, causing fogging or failed window seals.